Location
Firepool is a major regeneration area within Taunton town centre, for which there have been development aspirations for many years. Previously the site of the former livestock market and various surface car parks, the site is central to the regeneration plans for the town centre.
The site is owned by the Council, and as such, the Council holds two distinct roles: as developer / landowner / asset holder; and as Local Planning Authority (LPA).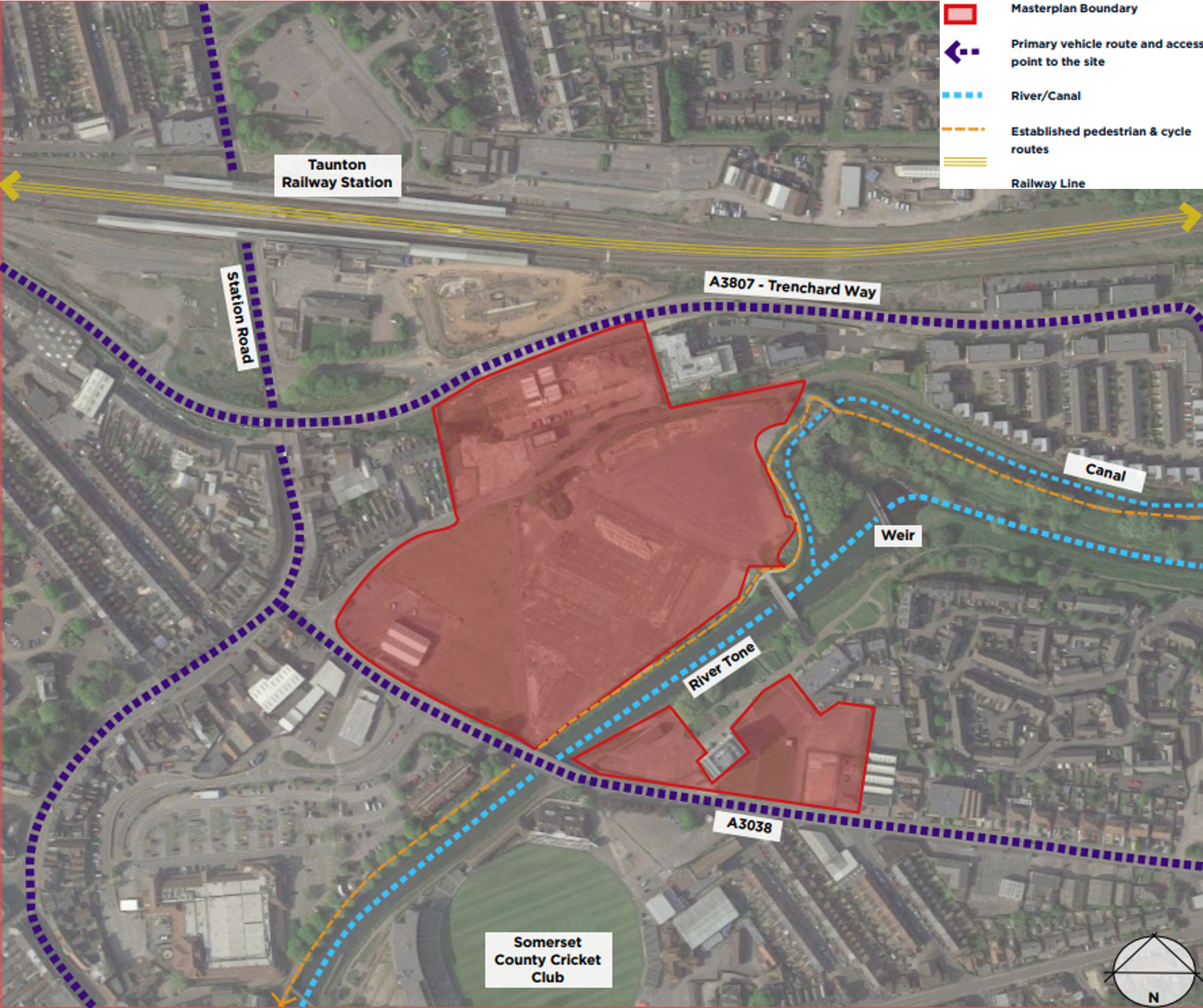 Policy Context
The Firepool site is allocated by the Taunton Town Centre Area Action Plan (adopted 2008). Development at Firepool is a key site in delivering the vision identified within that plan.
Policies Fp1 and Fp2 of the Town Centre Area Action Plan deal with the area broadly covered by this Masterplan (though there are some areas of the allocation which have already been built out and which are excluded here).
Policy Fp1 sets out the development content for the site as an office-led mixed-use development comprising offices, retail and leisure, residential, multi-storey car park, hotel and other uses. Policy Fp2 sets out the transport measures which will be required to accompany the development.

2019 retail-led permission
In 2019, the Council granted planning permission for a retail-led mixed-use scheme on the site. This decision recognised that demand for office development had reduced significantly, and that there was, at that time, market interest for a retail-led development. This permission is now considered to have lapsed.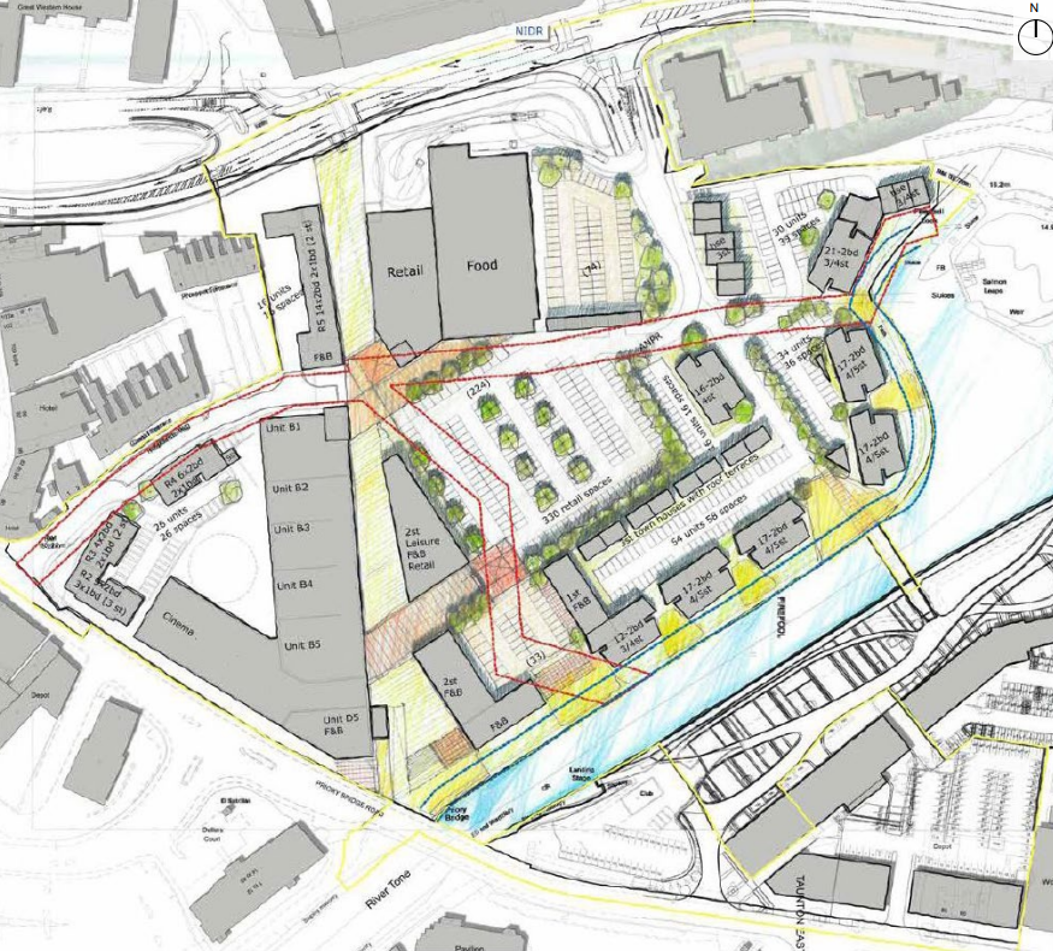 Changed circumstances
Since the office-led allocation in the Town Centre Area Action Plan was adopted, and since the retail-led scheme was approved, circumstances have changed further including:
The Council has published the following up to date planning design guidance for development:
The Council has published the following corporate policies:
Government policy and legislation has moved on including in relation to the National Planning Policy Framework, National Design Guide, Net Zero Strategy, Local Transport Note 1/20, Environment Act etc.
And other material considerations have changed including:
markets for both town centre office and retail would appear to have changed quite significantly, with more people working from home and retail decline in the town centre a significant concern
the COVID pandemic, a cost of living crisis and energy crisis have hit
Natural England advised in August 2020 that, in light of the unfavourable condition of the Somerset Levels and Moors Ramsar Site, before determining a planning application that may give rise to additional phosphates within the catchment, competent authorities should require an Appropriate Assessment under the Habitat Regulations and where an adverse impact is identified require appropriate mitigation.
Somerset County Council have published the Taunton Local Cycling and Walking Infrastructure Plan (LCWIP, November 2021) and updated Estate Roads in Somerset Design Guide (December 2021)
As a result of the above, there are a number of reasons why the adopted planning policy context for the Firepool site, and in particular the development content set out within policy Fp1, can be considered out of date. Furthermore, it is reasonable to expect a modern, responsive development on the Firepool site, to take account of the changed circumstances.
Making planning decisions in relation to new development when so much has changed from the original adopted policy context is difficult as planning decisions should be taken in line with the development plan unless material considerations indicate otherwise. As such, a new Masterplan, adopted as a material consideration, and supported by the right evidence can provide an important up to date policy context to justify divergence from adopted planning policy where appropriate and necessary.