The Masterplan has been built around a set of key design principles developed from analysis of the site context, policy context and material considerations as well as engagement with key stakeholders. These key design principles are set out below.
Garden Town
Taunton should turn to face and address the river. The Firepool site presents an opportunity to do this through high quality placemaking.
Green corridors along the river edge and canal are an important link between the countryside and town centre: Firepool has an important role in the transition from rural to urban character.
Blue infrastructure should be used to link Taunton's regeneration sites and the surrounding areas. This could be achieved through options for moorings, house boats, jetties and a river taxi.
A tree lined route along the river's edge and Priory Bridge Road should be a priority.
The masterplan should create open space around Firepool Lock that benefits from views towards the Pump House and Children's Wood Local Nature Reserve.
Character areas within masterplan landscaping should be used to define site hierarchy.
Consideration of where sun and shade occur can help encourage use of external spaces.
The need for safety along the river corridor should be balanced with ecological needs for reduced light spill.
Sustainable Urban Drainage should be integrated into the public realm and green infrastructure throughout the site. Where any significant attenuation infrastructure is proposed, then this should be designed to permanently hold water so that it becomes a permanent and attractive feature.
The character, scale and naming of the major public realm interventions (i.e. Boulevard and plaza) should be made more appropriate to a 'town' scale (e.g. Street, square, avenue).
A public art strategy (as well as green infrastructure) should be used to create active spaces where people linger rather than just thoroughfares.
Any on street parking should be broken up with landscape features.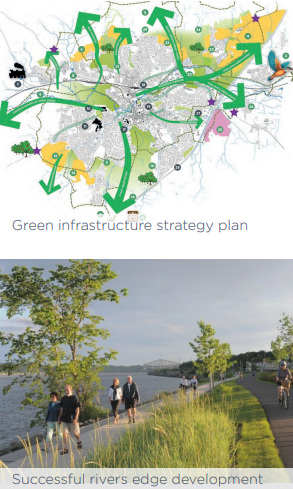 Transport & Movement
Support a shift away from car dependency by understanding the wider Taunton travel network and ensuring that the masterplan layout responds by offering convenient connections into the wider network.
Identify how cyclists and pedestrians are likely to access the cricket ground and town centre (via Coal Orchard) in order to determine whether a new bridge parallel to Priory Bridge Road is justified.
Undertake analysis of access to public transport that serves the site to ensure movement through the site is fully considered. Safeguard the option for a future bus route along Canal Road by retaining a potential 'bus gate' across the boulevard.
Given the scale and location, the site will be busy: cyclists and pedestrians should be segregated on key distributor routes to ensure everyone can move safely through and around the site.
Routes along the riverfront will need to be designed with surveillance and safety strategies.
Secure cycle storage, local to the user's homes, to be considered to avoid underutilised large open bike stores.
A strategy for car clubs and bike hire should be included.
Residential parking should be designed to discourage habitual car use.
Surface parking courts within residential areas should be avoided as they are less secure and result in areas of unbroken hard surface.
Consider whether the existing Canal Road junction can be narrowed to better serve pedestrian and cycle movement.
Consider the needs of disabled users who need to drive (and park) to visit the site.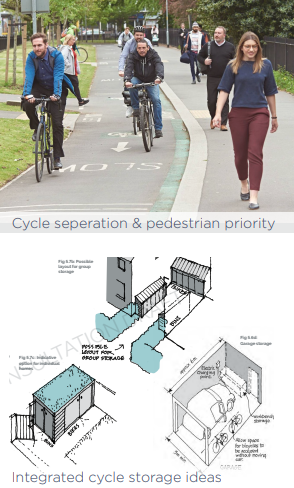 Site Use / Development Mix
Establish who the target users of the Firepool area will be and aim to deliver a mixed use site – living, working and visiting – in order to create a community.
Balance a need to bring younger workers to the town, while catering for the established family market and potential 'downsizer' market who might be attracted to the riverfront.
Look for ways to increase use of the riverside including amenity, recreation, education, ecology and social events. Locate highest value developments overlooking river.
Undertake an analysis of the proposed plot uses to establish which can be made car free and rely on sustainable travel modes.
Provide a mix of green space, biodiversity, allotments, children's play space on the site (where feasible within spatial constraints).
Establish likely Housing tenures and affordable homes targets.
The development mix should propose a mix of uses that are contemporary, sustainable, viable and futureproofed for the site.
Each development use should be located according to access, scale and to provide a mixed use development with complimentary uses side by side.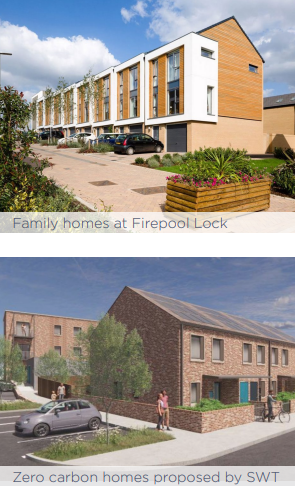 Built Form
Spaces, the public realm and movement should be the driving for behind the scale and shape of development plots, while building form should be informed by environmental & sustainability factors.
Storey heights should be appropriately informed and justified through an analysis of context and protection of heritage features.
Buildings should be broken down into Character Areas following landscape and heritage cues.
Houses should be arranged within development plots so as to avoid long runs of exposed back gardens which have security concerns and can be unnatractive. Back to back houses should be preferred but where not possible the propery should be designed to have dual frontage and appropriate integrated garden storage.
Building form should be developed that reduces single aspect homes and avoids north facing single aspect dwellings entirely.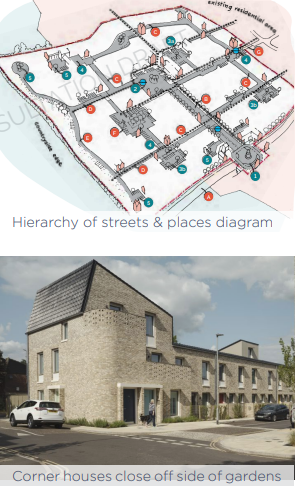 Sustainability
A zero carbon vision for the site to be integral to all decisions. An energy hierarchy should be followed to ensure all techniques identified flow as part of that hierarchy.
Follow the principals of "Towards Zero Carbon Buildings" in the emerging Districtwide Design Guide.
Identify potential energy-related opportunities such as district heat network, hydro, water source heat pumps, roof-mounted solar, DC share.
Facilitate sustainable, active travel as default through internal site layout design and ensure suitable connections are made onto the current wider Taunton travel network.
Whole life embodied carbon should be considered when deciding on a site-wide material palette.
Building form should be designed around sun path to optimise solar gain and shading to suit building uses.
Opportunities to adopt Passivhaus standards, particularly in housing, should be implemented.
Explore opportunities for on-site biodiversity net gain.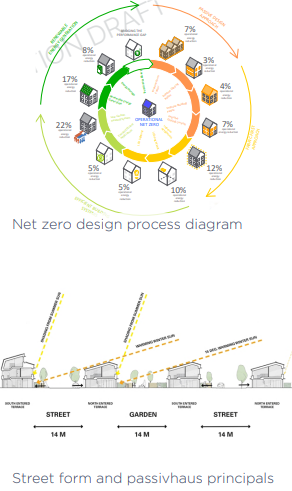 Heritage
The area is historic and an understanding of key heritage buildings both designated and non-designated should inform the masterplan (analysis should include reference to the Historic Environment Record).
Conservation areas should be identified to assess any impacts on them due to development.
The masterplan should enhance views of the church towers. the scale of proposed buildings should not cause harm to the setting of churches and listed buildings. Historic England should be consulted on the impact.
The River Tone, Bridgwater and Taunton Canal, and Railways have all shaped the site (both physically and through historic uses). This history should inform site placemaking, character and naming by creating references to heritage.
Heritage narrative should be provided to determine if the works that comprise the masterplan are enough to trigger impacts to on-site or off-site assets (without evidence a full Strategic Environmental Assessment may be required).