Sustainability is an imperative part of the scheme, especially as Taunton is aiming for carbon neutrality by 2030.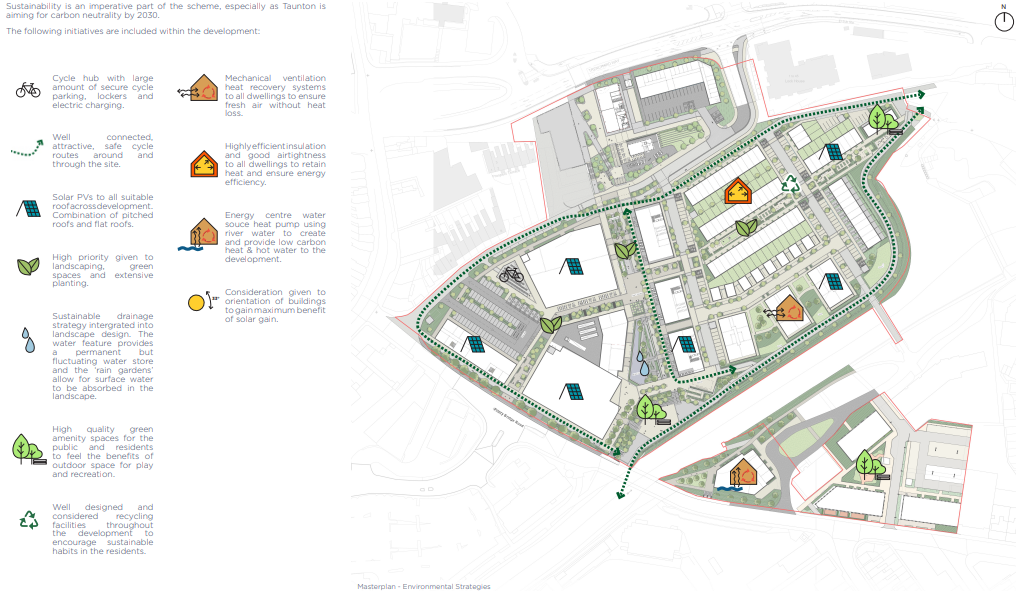 The following initiatives are included within the development:
Cycle hub with large amount of secure cycle parking, lockers and electric charging.
Well connected, attractive, safe cycle routes around and through the site.
Solar PVs to all suitable roof across development. Combination of pitched roofs and flat roofs.
High priority given to landscaping, green spaces and extensive planting.
Sustainable drainage strategy integrated into landscape design. The water feature provides a permanent but fluctuating water store and the 'rain gardens' allow for surface water to be absorbed in the landscape.
High quality green amenity spaces for the public and residents to feel the benefits of outdoor space for play and recreation.
Well designed and considered recycling facilities throughout the development to encourage sustainable habits in the residents.
Mechanical ventilation heat recovery systems to all dwellings to ensure fresh air without heat loss.
Highly efficient insulation and good airtightness to all dwellings to retain heat and ensure energy efficiency.
Energy centre water source heat pump using river water to create and provide low carbon heat & hot water to the development.
Consideration given to orientation of buildings to gain maximum benefit of solar gain .