21 November 2022 : Council news, Community, Planning and development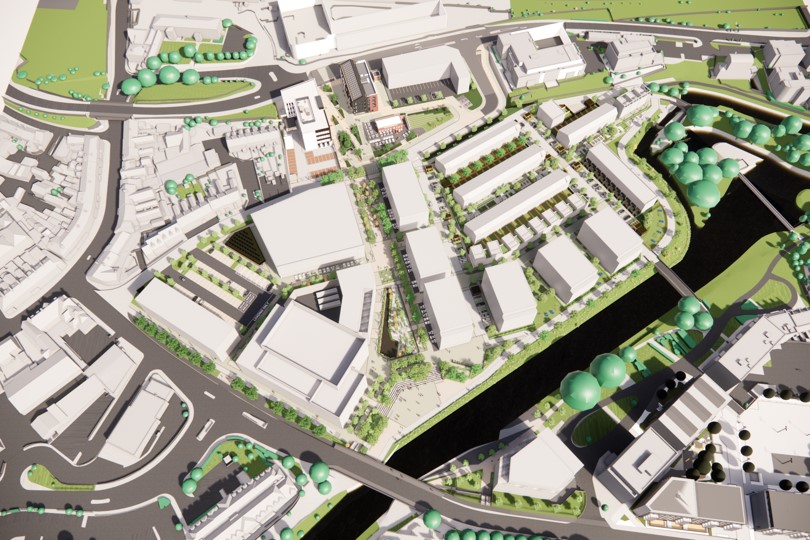 Members of the public are being asked for their views on a new masterplan to future-proof delivery of the Firepool regeneration site.
SWT's Executive approved the Draft Firepool Masterplan for public consultation at their meeting on Wednesday, 16 November, giving residents a chance to have their say on the updated proposals.
The revised masterplan is for a mixed-use scheme comprising new homes and an ambitious leisure quarter capable of accommodating a multi-purpose venue, hotel, cinema, bowling alley, health hub and nursery focused around a high quality boulevard and amphitheatre fronting the river Tone.
It also introduces an improved walking and cycling connection along National Cycle Network on the north bank of the river Tone, and sustainability features including a centralised cycle hub containing secure cycle storage, low traffic neighbourhood design and an energy centre for potential heat network delivery.
The final version of the masterplan will provide the Council with an up-to-date document for use as a material consideration when determining individual planning applications within the site.
It will also provide greater clarity about what may constitute appropriate development proposals for the site going forward.
Cllr Mike Rigby, Executive Member for Economic Development, Planning and Transport, said: "There have been several national and local changes since we consulted with the public on early ideas for the new masterplan in November 2019.
"These together with the ongoing impact of Covid and the cost of living crisis on the national economy, mean that we need to take proactive steps to ensure the development can be delivered and is fit for the future.
"The updated masterplan takes account of these changed circumstances while reflecting the Council's corporate priorities to enable and deliver major schemes; value and support culture and the arts; deliver homes that local people can afford; and care for the environment.
"I hope people will engage with us and play their part in helping to shape our flagship regeneration development."
The Firepool site is owned and is being developed by Somerset West and Taunton Council which is also the Local Planning Authority (LPA) and therefore has two separate roles - the Council as developer is producing the draft masterplan, and the Council as the LPA has approved public consultation on the draft masterplan.
The consultation starts today, Monday, 21 November, and runs for six weeks until 2 January 2023.
To have your say and get involved:
• Go to firepool.commonplace.is
• View hard copies of the Draft Masterplan documents at the Council offices in Deane House, Belvedere Road; Taunton Central Library and Priorswood Library.
• Attend one of our consultation events (more details on how to join the online sessions available on the consultation hub):
o Monday 28th November 2022 @ 7:30pm - online public presentation and Q&A session.
o Tuesday 6th December 2022 @ 5pm - 9pm - in person drop-in session at the Council Offices, Deane House, Belvedere Rd, Taunton, TA 1HE.
o Thursday 8th December 2022 @ 12noon - 5pm - in person drop-in session at the Council Offices, Deane House, Belvedere Rd, Taunton, TA 1HE
o Monday 12th December 2022 @ 5pm - online presentation and Q&A session focused for local businesses.
Participants are encouraged to respond to the consultation online via the consultation hub, but alternatively can respond by email to Strategy@somersetwestandtaunton.gov.uk or write to us at Planning Policy and Implementation Team, Somerset West and Taunton Council, Deane House, Belvedere Rd, Taunton, Somerset, TA1 1HE.
Following the consultation, comments will be reviewed and any necessary amendments made taking account of the views received along with work on outstanding issues.
A final Masterplan is expected to be presented to Full Council in March 2023 seeking adoption as a material consideration in the determination of planning applications.
Site clearance and preparation for Phase 1 of drainage works opening up the Firepool site for redevelopment is currently underway following the appointment of contractors Montel Civil Engineering.
The works include removal of existing obstructions above and below ground, and construction of new sewer networks and surface water infrastructure together with groundworks to lift the bulk of the site out of the flood plain ready for future development.
This work is expected to continue until Spring 2023 and will be followed by construction of the boulevard connecting the railway station through Firepool and along the river Tone to the town centre.