26 October 2022 : Council news, Planning and development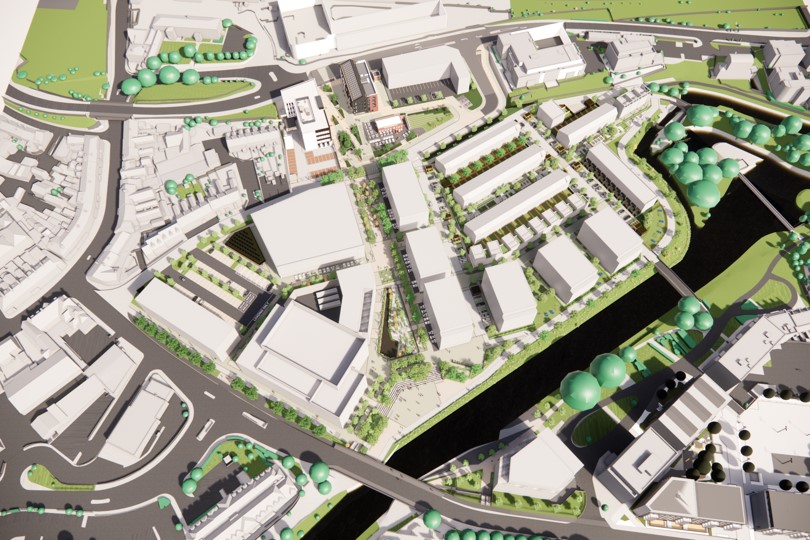 Somerset West and Taunton has made significant progress at Firepool this year after its planning committee approved applications for vital infrastructure work along with an initial programme of development.
Work to raise ground levels and divert drainage infrastructure within the site is set to begin in November following the appointment of contractors Montel Civil Engineering.
It will include removal of existing obstructions above and below ground, and construction of new sewer networks and surface water infrastructure together with groundworks to lift the bulk of the site out of the flood plain preparing for future development.
The Council has also worked to support and enable Somerset County Council to implement its ambitious Digital Innovation Centre proposals with building progressing on site to provide high-quality office, workshop, collaboration, and meeting space as well as specialist collaboration support services targeted at digital economy businesses.
A new masterplan is now being prepared to future-proof delivery of the Firepool regeneration site reflecting Somerset West and Taunton Council's Garden Town Vision and corporate priorities.
The revised masterplan details a mixed-use scheme comprising new homes and an ambitious leisure quarter capable of accommodating a multi-purpose venue, hotel, cinema, bowling alley, health hub and nursery focused around a high quality boulevard and amphitheatre fronting the river Tone.
It also introduces an improved walking and cycling connection along National Cycle Network on the north bank of the river Tone, and sustainability features including a centralised cycle hub containing secure cycle storage, low traffic neighbourhood design and an energy centre for potential heat network delivery.
The Firepool site is owned and is being developed by Somerset West and Taunton Council which is also the Local Planning Authority (LPA) and therefore has two separate roles - the Council as developer is producing the draft masterplan, and the Council as the LPA will be consulting on the draft masterplan.
Cllr Mike Rigby, Executive Member for Economic Development, Planning and Transport, said: "There have been significant challenges in bringing forward commercially viable and policy compliant development on this site, but this Council recognises the immense economic, social and environmental benefits of this development to the town and we're taking proactive steps to bring this regeneration to fruition and get delivery moving here."
The Council previously consulted with the public on a draft masterplan in November 2019. However, since then there have been national and local policy changes together with the impact of Covid and the cost of living crisis which justify an alternative development solution for the site.
The new masterplan will provide the Council with an up-to-date, holistic document for use as a material consideration in the determination of subsequent individual planning applications within the site.
It will also provide greater certainty in what may constitute appropriate development proposals for the site going forward.
The draft masterplan for Firepool is due to be considered by Corporate Scrutiny on 2 November and Executive Committee on 16 November, with an officer recommendation to approve for public consultation. This will give residents a chance to have their say on the updated proposals.
A final masterplan is currently expected to be presented to Full Council for adoption in March 2023.